drawing pads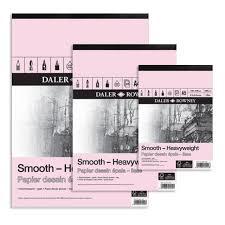 Daler-Rowney Heavyweight for all drawings and light painting techniques.
Daler-Rowney Heavyweight paper offers excellent tooth for all drawing techniques and takes light watercolour and acrylic work extremely well.
It is also ideal for pencil, brush, pen and pastel.
Heavyweight pads contains 25 sheets of 220gsm, acid-free, off-white cartridge paper.
It is gummed to enable clean removal of pages with minimum tearing and a clean, sharp edge and is backed by a sturdy 2mm grey board so there's no need for an additional drawing board.
It is available in sizes A2, A3, A4 and A5.